Manila in the 1970's and Now – My Observations
This was my first visit of more than a day or two to Manila, since the 1970's. I spent a good deal of time walking around the Quiapo area and interacting with the "common tao." I feel sorry for many of my former students—they grew up in a bifurcated society. They have had little, if any, contact with the people who are the foundation of their society. They have never seen the enormous beauty of these people, their joy in the face of such poverty, their hopefulness even though the future is uncertain at best. It is fascinating to see how these people interact among themselves, how they do commerce, how they solve problems. There is a great deal to be learned from the "common tao;" they remind me of the Dabbawala of India.
If the "common tao" vanished, the "Makati class" would collapse. But this is a symbiotic relationship. It is the "Makati class" which keeps the economic machinery working (if not always smoothly).
Quiapo church seemed unchanged since thirty years ago. On Sunday's it is overflowing with parishioners. Now, however, a large screen display, overlooking Plaza Miranda, allows parishioners outside of the church to view the service. It continues to remain a mystery to me as to how an institution like the Roman Catholic Church, which, in my opinion, has so ill served Philippine society, continues to thrive, but thrive it does!
Malinis na sa Maynila! It's stunning now to see how clean are the streets, even though it's hard to find a basurahan! I walked for several blocks carrying an empty water bottle before I found a basurahan to toss it in!
In the new "clean Manila," there has been a marked decline in the presence of "ipis" and "daga." I did not see a single daga for my entire stay, even in crowded Quiapo! It used to be that you would frequently see daga climbing on piles of trash. I did see one small ipis on my very last night in Manila. I went to the local 7-11 store to pick up my "express rice meal" for dinner. There, climbing under the siopao warmer was a small ipis. Wow! "ipispao," I thought. One can only imagine what an enormous health benefit it is for the people when the rat and roach populations are reduced.
It's wonderful to see that the street kids have some meat on their bones. This little boy is begging for money while snacking. He hasn't learned yet that "image" is an important part of begging. (He earned five pesos for having his picture taken.)

It was very gratifying to see that most of the street people now have some flesh on their bones. Thirty years ago so many people were payat na payat. Even the aso and the pusa, while still payat, are looking well fed. This is not to say that the diet is healthy, but at least people are eating. At meal times, people sit along the sidewalks eating their kanine and ulam. I even saw some people using small plastic bags over their fingers as a kind of glove, rather than eating with their unwashed fingers. There are even some mataba people on the street!

In the brief afternoon rain, the children rush into the streets to play in the dirty water. Their joy outstrips anything you might see at Disneyland. It was so beautiful to see these precious little angles at play.

The street vendors and stalls sell everything imaginable. For reasons which I don't understand, karaoke machines seem to be especially popular. Mobile phones are sold everywhere, even from lone vendors walking in traffic. I still haven't figured out how they activate these phones. Even the lowliest of the "common tao" seem to have mobile phones, though they use them only for text messaging.

The Internet is ubiquitous. Internet cafes provide access for 35 pesos an hour. Cards are sold which provide dial-up access for 100 pesos. E-mail accounts, mainly Yahoo, are practically universal. It is possible that more humans are now accessible by e-mail than any other form of communication except for the broadcast medium. Is it any wonder that SPAMmers won't go away—the potential is enormous!

To those of us who remember the PLDT of the 1970's, it is truly amazing to learn that PLDT now provides high-speed DSL connections throughout Manila. Why do so many people need high speed Internet connections? I'm told that the main reason is for pirating movies! People will setup their computers to download a movie or two in the morning, by the time they come home the movies are ready for viewing. I'm sure that the American media companies know about this, however, unlike in the United States, they don't seem to do much about it. I don't anticipate that PLDT will be subpoenaed to provide a list of all persons downloading movies in Manila. In my opinion, American media companies gain more by spreading "American culture" than a few pesos in royalties.

Something else I found interesting about the Internet in Manila: There aren't any unlocked wireless routers! In the United States, wherever I travel, I can usually find an unlocked router to connect to. Not because I want to "steal" Internet access, but just to check e-mail or make a hotel reservation. You won't find this in Manila!

One final observation: Google. When I attempted to do a Google search I found myself connected to google.com.ph. Including a "Hanapin sa Google" button! I tried to invoke the US Google but couldn't do so. I was told my one of the locals that the local version of Google is censored. No surpirse there. (Consider Google and Yahoo in China!) But it is a reminder that private US companies, like Google and Yahoo, are putting their own business interests ahead of fundamental human rights issues.

Manila's ubiquitous sari-sari stores have been replaced by ubiquitous 7-11 stores. The 7-11 stores in the United States would be envious of the Philippine model. The foot traffic and the sales per square meter in the Philippine stores must be at least an order of magnitude greater than a comparable US store. It's interesting to see how the Philippine model has adapted to the local culture while maintaining the marketing style of the US model. One of my staple meals, while in Manila, was the 7-11's "express rice meal." I also thought their siopao were good. When we bought siopao in the 1970's, we were concerned that it might be "asopao" or "pusapao." So, perhaps one reason that franchised 7-11's proliferate is that people trust the quality of the product.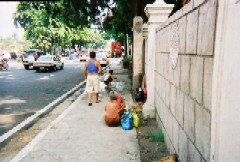 This "lola" is filling small plastic water bottles from water draining through a wall. The source of the water is not obvious. It hadn't rained yet this day, so it probably wasn't rain water. On the next block a "lolo," carrying a beat up Styrofoam cooler containing small plastic water bottles, offered me "water Joe, you want water Joe?"

Sadly I did not eat at the palengke. I was warned by a number of people that plaengke food was no longer safe. And judging by the traffic at the ubiquitous Jollibee and Chow King restaurants it seems that most people are now eating at these Philippine versions of US fast food restaurants. It was gratifying to learn that McDonalds, which initially had a strong presence in the Philippines, has been losing business to the local fast food chains. (Reminds me of when we lived in Greece. The local fast food chain, Goody's, was vastly superior to McDonalds.)

A Philippine institution, the "two peso" movie theater, still exists, but it now costs forty pesos. In the 1970's, the "two peso" movie theaters were everywhere. Manila was a city in which residential air conditioning was virtually unknown, the people who didn't live on the streets, lived in overcrowded rooms, and a lot of people had a lot of free time. These large, pitch dark movie theaters were air conditioned to the point of refrigeration. They were a refuge from the crowds, and place where couples would go seeking privacy. I can recall many a time when the 5PM rush hour traffic in Quiapo made it impossible to find a seat on any bus or jeepney—and then it starts to rain! The "two peso" movie theater was an oasis from Heaven!

The people in the "two peso" theater are street vendors, jeepney "starter boys," and just the simple kind of people who live on the streets in Manila. In this large, dark theater, flickers of bluish light pop up here and there—if you didn't know better you'd think that fire flies were in the theater. Even in this place, people are text messaging constantly! Sometimes people sitting side-by-side hold their mobile phones up next to each other! It looks like some kind of a bonding ritual!

It seems that shopping malls have now taken the place of the "two peso" movie theater. They are large air conditioned spaces. There's plenty of stuff to see and do, although not much privacy. I'm told that these malls, almost all of which are less than ten years old, were built by the foreign currency remittances of Filipino workers abroad. At first glance, it looks as if everyone in Manila is middle class—they all seem to be shopping their hearts out. Until you notice one peculiar thing—few people are carrying shopping bags. It would seem that most people are at the malls to simply walk around, have lunch, and kill time. I'm told that many of the mall stores close after a year, having been unable to make a profit. However, for every vacant store, they're ten applicants to rent it.

Something else about the Manila shopping malls which differ from their US counterparts—security. Even the "lower class" malls in the Quiapo/Escolta area, have security guards posted at all entrances. They poke through bags with sticks, or just peek inside. It's a reminder that the centuries old conflict with the Muslim minority has not been resolved.

With one exception, I saw no drug use during my Manila excursions. That's in stark contrast to a comparable city in the United States. Of course, I'm sure that drug use exists—I just didn't see it. I've never thought of the Philippines has having a drug abuse problem.

Near my hotel, where a lot of street vendors hang out, I spurned a street vendor who was selling Rolex watches. He then decided to offer me Viagra! I was mortified, I turned to him and asked "para sino ba?!!" He just grinned.

Another time, walking in the Luneta area, I noticed a young man, one of the squatters, pressed up against a wall. At first I thought he was urinating, but his hands were at his face. I noticed him breathing into a plastic bag. I'm told that he was doing "rugby." Sniffing rubber glue from a plastic bag. And is that such a bad option if you live the life of a squatter?

(Speaking of urination, where have all the signs gone reading "Bawal Umihi Dito?" I remember, in the 1970's, an area where two walls came together forming a ninety degree angle, one wall had a sign reading "Bawal Umihi Dito," and the other wall had a sign reading "Dito Rin.")

It surprises me that many more people don't use drugs. Some people live lives of utter desperation. I was told about one young man who lives on the streets. He tries to sleep as much as he can, wherever he can. "When I sleep, it's the only time I don't feel the pain of my life..." A sense of utter desperation and inordinate amounts of sleep are symptoms of clinical depression. And, of course, there's no reason to believe that people living on the streets of Manila are any less prone to clinical depression than the rest of the human population. But what an utterly, terrible life that must be. To have a mental illness in such hopeless circumstances. Perhaps that's why Quiapo church is so full—and perhaps I should rethink my opinions about the church—"the opiate of the people."

I took my first jeepney ride in 30 years—it was not until that moment that I felt I had returned "home." The fare was eight pesos; thirty years ago it was fifteen centavos. The jeeps are now larger, but other than the fare, this staid transportation system remains unchanged. Even the signboards seems to be exactly the same signboards from the 1970's! One difference, I missed seeing the sampaguita flowers hanging from the rear view mirrors. What has happened to all of the sampaguitas?!! My guess is that the Manila construction boom has consumed flower growing land. Or is the sampaguita now extinct?

Cigarette smoking is still the bane of the Philippines. They are sold everywhere, still sold by the piece. There is no age restriction enforced. Needless-to-say, most of the brands are American. The U.S. tobacco companies must earn a fortune from the Philippine market—but what a price Filipinos will pay. Am I too cynical to think that perhaps the government turns a blind eye to cigarette smoking because it is unprepared to provide care for aging Filipinos?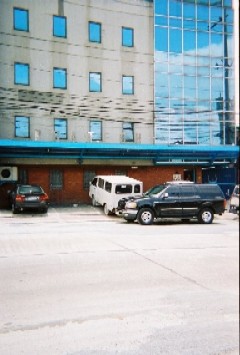 My former apartment at 85E Kamuning Road, home to one of the first microprocessor based computers in Southeast Asia, has been replaced with this gaudy office building. Our little area on Kamuning Road had the feel of a village. It's all gone now.
2nd Photo ->
3rd Photo ->

Manila traffic is worse, much worse than the 1970's. But the most stark difference is that the private vehicular traffic now consists primarily of large vehicles—mainly SUVs. In the 1970's the roads were clogged with small cars, mainly small Toyota's. How sad to see Filipino's emulating the spendthrift ways of Americans. I asked about this and was told that it's because of "the roads." But, in fact, the streets in Manila are better than many places in Los Angeles. My guess is that it's just "conspicuous consumption." If the roads were bad, you could buy three, or maybe four, Kia automobiles, for the price of one of these SUV behemoths. Of course, the "style" of driving in Manila hasn't changed—it's still very aggressive. I did notice one thing odd in parking lots. People are parking by backing in to parking places, rather than "head first." There must be a uniquely Filipino story behind that.

I don't expect to see any improvements Manila in traffic, or overcrowding. The median age of the population is 23 years old. I'm told, informally, that 50% of the population is less than age 20. This is a population tsunami! How can the Philippines sustain such a population growth! How can the government ever hope to provide the educational and social services for this exploding population?

I also don't expect to see any improvements in the lives of squatters. How can the government possibly provide services to a population growing at a rate of over 1.7% a year! I remember in the 1970's how difficult it was for the squatters to get water and electric service. But there's something new in Manila! In some areas, electric meters are being installed on towers above ground! It seems that this is the latest move in the war between MERALCO and the squatters. I'm told that the meters are read by MERALCO personnel using overhead lifts and that armed guards must accompany the meter readers.

Government corruption continues to be a problem which impacts the development of the Philippines. I was told by several very credible sources, independently, that the current government "is the most corrupt we have ever had in the history of the Philippines." I was stunned. "More corrupt than the Marcos regime?" I asked. "Yes!" I was told. "Because during the Marcos regime the corruption was controlled." Although I didn't realize it at the time, during the Marcos years, the military was responsible for assuring that bribes were paid, in agreed-to terms, and only when performance objectives were met. In other words, bribes were more or less incentive payments. All of this is too much for most reputable business people to deal with. In my opinion, the ongoing, endemic corruption in the Philippines continues to be one of the major obstacles in the country's development.

Could it be that the government's strategy is to export Filipino workers and earn all of those foreign remittances? Well, it was interesting to hear people talk about how foreign remittances are being spent domestically. Some say that rather than being invested in the development of the country, foreign remittances are being spent on trips to the malls, the IMAX, and, in general, just having a good time. However, since most of the money received from abroad stays in the Philippines, it eventually does some good. The plethora of high-rise condominiums would suggest that some of that money is being utilized for housing.

Speaking of the building boom in Manila. Are all of these high-rise buildings being built to withstand earthquakes? I guess we'll find out, after the next, inevitable, earthquake strikes Manila.

All in all, the vibrancy, the colors, the smells, the sounds, of Manila tug at my heart—if I had any control over my life, I would be living in Manila rather than Los Angeles. The irony, of course, is that Filipinos love Manila too. So, when they live abroad, they congregate in areas which they call "new Manila," or "Filipino town," even "Little Quiapo." They never realize that they, and they alone, have the power to turn this pretty little place into the elusive (and illusive) paradise they seek.